Upcoming Workshops
Class Fee Refund Policy
Canceled by Instructor/Gallery – Full refund.
Canceled By Student more than 15 days in advance with original payment by credit card or PayPal – Fee returned minus a 5% fee for card processing.
Canceled By Student more than 15 days in advance with original payment by cash or check – Full refund.
Canceled By Student less than 15 days in advance – Fee returned minus a 50% cancellation fee.
---
Wearing Wonderland Charm Bracelet
with
Julie Haymaker
Friday, August 24, 2018
10-5:30
$150.00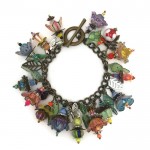 Let's take shrink plastic to a new level by forming shrink plastic into beads using the Shrinkets molds and creating a fun, light hearted, chunky bracelet.
What students will learn?
* Using "Shrinkets" domed mold to create flower beads.
* Hand forming leaf beads using shrink plastic
* Wire wrapping beaded charms.
* Attaching to an open link bracelet.
* Colored pencil adds designs and color to the beads in shading contour line techniques.
* Each kit will include 10 hand wire wrapped beaded charms (without shrink plastic beads).
All the tools and materials to make the project are provided.
12 Students – 8 spaces remaining.
---
Queen of the Night (wall hanging)
with
Julie Haymaker
Saturday, August 25, 2018
10-5:30
$160.00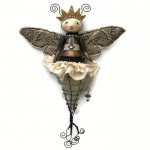 Our Moth Queen rules the night.  Her face will be painted on one of Julie's ready to paint plaster doll heads.  Paper clay demos such as slab forming and tube rolling will be part of the class and used to creating simple doll parts.
Stamped images are used to create the fabric wings that are also hand stitched.
Our dolls wooden body is painted with iridescent paints and is adorned in gathered laces and fibers.
Her body will be formed using steal annealed wire and is wire wrapped
---
Ring Around the Rosie Necklace
with
Julie Haymaker
Sunday, August 26, 2018
10am-2pm,
$80.00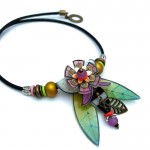 Using opalescent Shrink Plastic and Julie's Signature Shrinklet Molds you will create all the components for this pendant that hangs from a simple leather cord.
---
---